At History Solutions, we have a passion for history. We recognise that everyone has a story to tell.
At History Solutions we aim to bring history alive and that means looking beyond the dates and great events to the people who made history happen. Sometimes these people are royalty, government leaders and popular heroes, but more often than not, it is the story of the average person and their contribution which makes us want to find out about the past.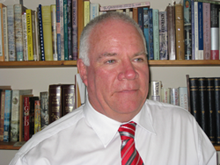 Dr Bob Marmion is a full member of the Professional Historians Association (Vic). He is an accomplished historian and educator with many years of experience. He has a special interest in Australian military history and Victorian colonial history and has spent many years researching and writing about Victoria's defence history from 1803 through to 1945.
While we may be specialist military historians, we also have considerable expertise in general Australian and Victorian history.
At History Solutions we can also draw on a number of professional associates who are highly experienced in archaeology, research, editing services, museums, education, project management, web design and other IT applications such as podcasting.
Acknowledge and honour the past to better understand the future.